About us
The Agricultural Bioinformatics Research Unit was established in 2004 with support from MEXT (Ministry of Education, Culture, Sports, Science, and Technology) to conduct education and research on bioinformatics for graduate students who are studying agricultural and life sciences.
The unit's educational program includes lectures, practice, and seminars in foundations, methodologies, and advanced topics of bioinformatics and their agricultural applications. It also supports the research of master and doctoral students and presents practical education linked directly to each research topic.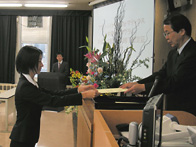 The unit aims at becoming the base of cooperation for experimental and computational studies and of industry-university cooperation. So far (2004-2008 academic years), a total of 98 students passed through the program and a total of 301 students passed the lectures.
The Agricultural Bioinformatics Research Unit was renewed in 2009 in order to enhance our activities by building upon the past experiences, and to promote university-industry cooperation and international cooperation. Four associate and assistant professors make up the Agricultural Bioinformatics Research Unit.